Invitation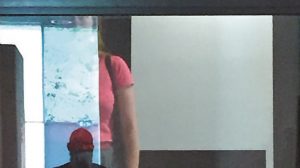 You are cordially invited
to the presentation of the book
TheParallelShow
on Sunday 22 April at 15:00
in the auditorium of the Kunsthal in Rotterdam.
TheParallelShow was a series of impromptu performances of occasional collaborations of performance art practitioners.
Between July 2015 and January 2017 TheParallelShow took place unexpectedly at and around public exhibitions in the Kunsthal, Rotterdam (NL), Naturalis Leiden (NL), M-museum Leuven (B), Tate Britain London (UK), Art-Rotterdam Art fair Rotterdam (NL), the Apollo Sanctuary Delphi (GR), Huis van Gijn Dordrecht (NL), IVAM Valencia (SP), Stasi Museum Berlin (D) en Met-Cloisters NewYork (US).
TheParallelShow was never announced, no invitations were sent.
The book TheParallelShow consists of  a preface by Frans van Lent, personal reports of the participating artists,
two e-mail exchanges (Andrew McNiven / Lisa Skuret, Ieke Trinks / Frans van Lent) and a brief review by Henk Overdevest.
Added is an appendix of 12 pages with photos, made by participants during the various occasions.Participants in TheParallelShows were: Peter Baren, Karina Beumer, Jeroen Bouweriks, Irina Danilova, Daniela Degen, iwbdjdyatmvezdmnekzawvb, Mr. & Mrs. Gray, Timo van Grinsven, Alexia Karavela, Erin Helsen, Emma Waltraud Howes, Jolanda Jansen, Ienke Kastelein, Frans van Lent, Steef van Lent, Andrew McNiven, Joana Mollà, Marnik Neven, Henk Overdevest, Nico Parlevliet, Jello Reumer, Ellen Rodenberg, Pepe Romero, Rafael Sanchez, Maarten Schepers, Ursula Scherrer, Joshua Schwebel, Lisa Skuret, Elia Torrecilla, ieke Trinks, Gijs Velsink, Ventiko.During the presentation a performance will take place:
Visual works by Verbal means
a compilation of texts of participants recited by ieke Trinks, Ienke Kastelein, Peter Baren and Frans van Lent. Project and book were initiated en compiled
by Frans van Lent within the framework of Unnoticed Art.
The book is published by Jap Sam Books.

+31(0)628599938